For many of us, renting a car is not an interesting thing until we go on vacation or business trip. However, if we have already planned a vacation or a business trip, then we begin to directly think about where we can rent a car. 
As a result, we often spend too much time looking for the right vehicle and then overpay a lot for it. You probably don't like this scenario? So, we decided to collect valuable tips to avoid unnecessary waste of money. 
How to reserve a good car and keep your budget? Can you rent a car at 21 or 25 at a low price? And finally, what should you do to get a cheap rental car?
Check out the following tips and make your trip even more affordable!
Don't book your car rental through a travel agency 
How many travel agencies are making money today? Everything is very simple. They profit from commissions received directly from customers. The more the travel voucher or flight ticket costs, the more profit the agency has. 
This also applies to car rental, which is another way of earning money for a travel agency. In fact, you can rent a car without agencies. It takes just a few minutes to book a suitable vehicle online.
Book your car as early as possible 
Similar to airline tickets, the cost of renting a car can rise in price as the date for which you need a car approaches. The biggest increase in the cost of car rental occurs shortly before the weekend or holidays. The fact is that on such dates the demand for cars is very high and many car rental companies are not averse to making money on this. Therefore, they raise the prices for this service. 
Indeed, despite the increase in prices, travelers will still rent cars for any money. Booking the car you need in advance will save you money and give you a wider choice of models.
Compare offers from different companies
Comparing different car rental providers is a great way to find the company offering the best rates. For this, you need to check several suppliers at once to compare their conditions, and then choose the best one among them. 
Another way to get the best deal is to use aggregator websites – this will allow you to get all the available offers on one page, compare the available options and make the final choice in just a few minutes.
Don't pick up your car at the airport
Did you know that car rental at the airport will be much more expensive than in the city location? We are talking about the same car from the same provider. 
This is because the company itself pays huge money for the airport parking spaces, and also pays various fees depending on its profits. As a result, the cost of services at the airport is much more expensive. 
In addition, the company also sets an increased rental rate, which is directly related to the convenience for the customer. Of course, if you book a rental car for just a day or two days, then the price difference may not be so significant. So remember, before you book a car at the airport, first look for the desired car in neighboring city locations.
Consider an economy car 
You don't have to rent a luxury car that consumes a lot of fuel if you don't need it at all. In case it's not particularly important for you which car to drive on your vacation or on a business trip – then rent an economy car. This will help you to save a lot of money. 
Naturally, Mercedes E-class or BMW 5-Series looks impressive and you will certainly feel very comfortable in it, but why overpay if you economy or compact car suits you as well? Having saved money on car class, you can spend this money on other personal purposes.
Check the rental price again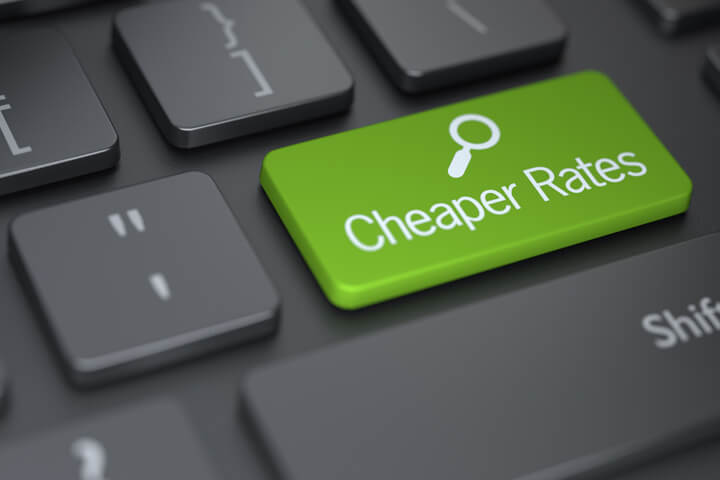 Before leaving on vacation or before a business trip, make sure that your car reservation is valid. 2-3 days before departure, look carefully at the rates offered by the company. It's quite possible that these days there's some kind of special offer or substantial discounts on car rental are provided. 
Compare these prices with your actual booking rate, considering that cancellation is usually free. In the event that your pre-booked rate is more expensive, then cancel this booking and re-order the rental car at discounted prices. However, before canceling your reservation, first order the car you need with better prices and wait for the official confirmation of the new reservation, only then cancel your old reservation.
Get insurance benefits
Car insurance terms may vary depending on the provider, but in general, almost all rental cars have damage insurance and liability insurance on board.
Of course, insurance costs money and often providers deliberately lower the cost of the car by including only basic protection. Unfortunately, this threatens with large expenses in the event of an insured event.
What should you do? Look for a provider with good insurance coverage for a reasonable price, or check out alternative insurance options. Maybe your credit card or personal car insurance covers driving the rental car abroad? This will save a lot.